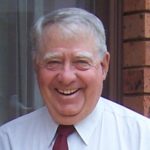 What does being a Brumbies fan have to do with the Gospel Folk?
Geoff Smith, founding manager of the Gospel Folk, explains.
Geoff, now busily retired in Narromine in central western NSW, admits to being a mad Brumbies supporter. Almost 20 years ago he tagged along with his Brumbies mates one day to Bruce Stadium where he heard the Australian Rugby Choir perform. "We saw these blokes singing and I thought, Gee I wouldn't mind being part of that," Geoff recalls. "They were singing Welsh hymns and I had some of that in my background."
So Geoff joined the Rugby Choir, where he first met their Assistant Conductor, Brian Triglone. Although the Rugby Choir sang at large events, it could not meet the all the requests it received to perform at the many smaller churches who had no resident choir and at retirement homes. Geoff, a practising Christian, approached Brian and asked he'd be interested in setting up a gospel choir, with some members from the Rugby Choir and women from other choirs. Initially called the Gospel Singers, in 2003 the new choir became the Gospel Folk.
While Brian looked after the musical side of things, Geoff did all the organising. He had a strong background in administration and management and these skills were invaluable in running the choir. He arranged the gigs, managed the members and finances and mentored new members. He and Brian would meet regularly in Brian's saddlery shop in Woden to discuss new songs and plans to attract new members and expand the choir's gigs. And it worked, with membership growing from around a dozen early members to more than 80 in 2014. In the early days most of the choir's performances were at churches, but these days the choir sings at a wide range of events and venues across the ACT.
Geoff is quick to identify the main challenges he faced as the manager of the newly formed choir. "Getting people along to practices and then getting them to come along on Sundays to sing at the gigs," he says. "Brian and I had to use our persuasive skills."
Although it kept him pretty busy, Geoff describes the Gospel Folk as a 'win–win situation': "For the singers, the value was in performing – in doing something that 10 years ago they wouldn't have thought about. And of course in making new friends."
At the same time, the choir gave back to the community, especially to the smaller churches and to the elderly. "There was a lack of stimulation for these people," Geoff says. "We gave them a good reason to come to church and we were able to give something back to these old folk who had been pioneers in Australia. People got a thrill from watching us perform. They'd walk away feeling good."
Echoing what current members still say about the Gospel Folk, he notes that right from its earliest days the choir had a special community feel. "The family of the Gospel Folk was very tight knit, supportive of each other. If someone was not feeling well, they were flooded with support, help and concern."
These days Geoff continues to channel his energy into volunteer work. He is now a very active Rotarian, heavily involved in youth and health programs. He runs two agriculture programs in Narromine on cropping and the cotton industry for agriculture students from across the central west. Geoff has managed two Rotary District conferences with over 450 delegates at each conference. He has received many awards for his community involvement.
In his spare time, he writes poetry and he is a freelance journalist for newspapers and magazines. He is a popular speaker on the Rotary circuit.
He still keeps in touch with the Gospel Folk. He was a special guest at the choir's 10th anniversary dinner in October 2013 and it is through his generosity that the new Gospel Folk website was designed and launched in May 2014.
So, whether you're a rugby follower or not, the Gospel Folk is one good reason to be grateful to the Brumbies. ♦
Brian retired as Musical Director of The Gospel Folk in December 2017 after leading the choir for 17 years. He created a dynamic, welcoming community of singers, and choir practices were never dull thanks to Brian's energy and enthusiasm for musical arranging and innovation. Brian is a great promoter of music in Canberra, conducting a variety of gigs, and often accompanying choirs with his guitar.